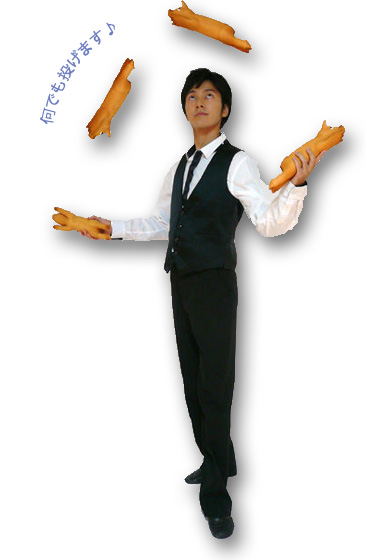 My show consists of some of these plays. show length is from 5min to 30min.

Balls(up to 7 balls)
Night Show(Balls, Clubs, Pois)
Tennis Juggling
Head Roll
Club Juggling


Improvisation Juggling


Ball Spinning, Plate Spinning
Tourch Juggling, Knives
Diabolos, Chinese Yo-Yo
Devil Stick
Cigar Boxes, Tsuzumi Juggling
Rola baller, ladder balancing


Meteo, Water Meteo
Ball Straightner


Crystal Ball Isoration
Japanese Traditional Juggling(umbrella spinning, mouth stick, mizukumoi no kyoku, hitotsu mari)

※Also available to give audience balloons.
※

mark means audience participation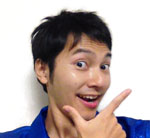 original jugglnig like Tennis Juggling, Tsuzumi Juggling,
Japanese traditional play, spinning umbrella, mouth stick, hitotsumari, mizukumoinokyoku,
Lighted Ball Juggling at night show,
excellent techniques and smooth moves,
Semifinalist at Japanese Comedien Championship R-1 grandprix
Any type of audience should enjoy my play!